Trade Promotion Management (TPM) in the cloud! The holy grail of a trade promotion tool that is ubiquitous, easy to use and easy to afford is now here. Salesforce.com has been a driving force in the cloud computing wave that is sweeping through the computer world. Cloud computing removes the need for expensive hardware, network infrastructure, data management and software maintenance because these issues are all handled through Salesforce.com in the cloud. Clear Task has been in business for six years building applications that fit on top of the Force.com platform to extend the Salesforce.com rich functionality and capabilities.
Now Clear Task has built a Trade Promotion Management application that fits on top of the Force.com platform. Clear Task set out to develop a full function TPM tool with the easiest to use planning interface in the business. They knew that consumer package goods account planners don't have time to learn how to navigate complex menu and user interface screens to plan a simple promotion, and they set out to develop a one screen planning screen and it looks like they got it right.
The Clear Task TPM tool's functional capabilities include:
A robust sales target and promotional funds allocation tool to allow for the input of one sales target and one promotional spending target and then allocate those sales targets and funds down to the account level. All sales targets and funds are allocated to account business plans at the business unit or product group and for a planning period.The allocation module provides a way for marketing or headquarter planning to distribute sales targets and promotional funds quickly and effectively in advance of the planning effort. Those funds are then tracked within the Clear Task TPM tool funds management module to insure clear visibility to allocated, planned, spent and remaining fund balances.

The Clear Task TPM planning tool is built on the basis of containers that hold information starting with an account business plan down to each individual promotional tactic:

Account Business Plan – Built for an account, planning period and business unit holds the weekly level metrics such as base units, planned units, actual units, planned spending and actual spending. All promotions and tactics for a planning period are contained in the Account Business Plan.
Promotions – Information containers that set the beginning and ending ship dates for a given promotion and contain all of the tactics for those dates.
Tactics – These are the basic building blocks for the planning effort as tactics contain data such as the type of promotional execution (Feature, Display, TPR etc.), the level of price discount and promotional lifts calculated from these elements.

Funds Management – Each tactic is associated with one or more authorized funds for that account planning period and the Clear Task TPM tool allows for an easy assignment of funds to each tactic. The settlement process depends of these funds assignments in order clear and open deduction or submit for a check request.
Clear Task TPM makes use of the Salesforce.com workflow engine to manage the trade plan & deduction approval process and the assignment of tasks within the tool based on business rules that control each workflow process.
Deduction Management – The Clear Task TPM deduction management approach is for a simple drag and drop approach to clearing an open deduction by dragging one or more open tactics on top of an open deduction which appends certain pieces of information to the deduction record and send that record back to the accounts receivable group to clear the invoice dispute.
Payment Request – A payment request is initiated by opening a check request form the then user drags and drops any open tactic on to the check request. Certain pieces of information are appended to the check request record and sent to the accounts payable department to send a check to the recipient.
Reporting – An advantage of building a TPM application on top of Salesforce.com is the ability to leverage the rich reporting functionality native to Salesforce.com. Clear Task has leveraged these capabilities to produce a suite of promotional analyses reports as well as dashboard reports to keep the user up to date on the impact and affects of their accounts' business plans.
Perhaps the most interesting and exciting thing about the Clear Task TPM tool is the price. You don't have to buy Salesforce.com to purchase the Clear Task TPM app because it has a runtime version of Salesforce.com called Force.com embedded in the TPM application. You don't have to buy hosting space or bandwidth and you don't have to buy hardware and increased network infrastructure to use the Clear Task TPM app. The costs associated with the implementation of the Clear Task TPM tool are pretty straight forward:
The TPM app costs $99 per user per month
There is a $15,000 to $30,000 consulting fee for the upfront TPM process consulting, setup and training effort to get the Clear Task TPM app up and running within your organization…By The Way the implementation timing is within 4-6 months depending on the scope and complexity of the implementation …BUT THAT'S IT!
If you organization has 30 account planners that on-going cost is $35,640/year versus costs of $200,000 + and 20% annual maintenance fees.  See a quick 5 minute YouTube video demo of "TPM in the Cloud"…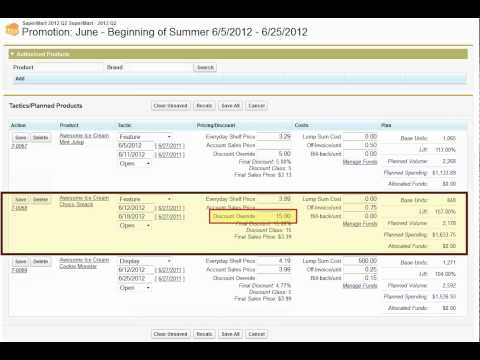 If your organization is doing trade promotion planning with Excel spreadsheets, on cocktail napkins or with nothing at all; you need to see the Clear Task TPM application.